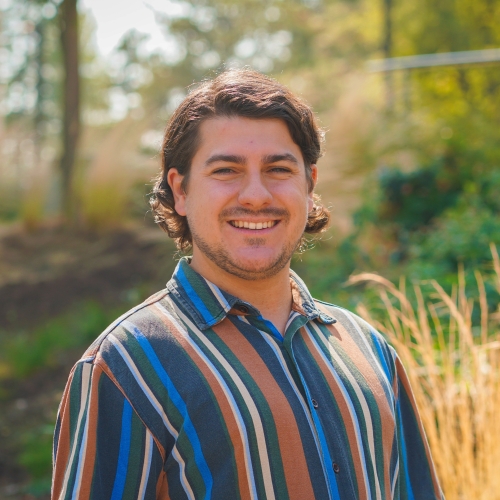 Adam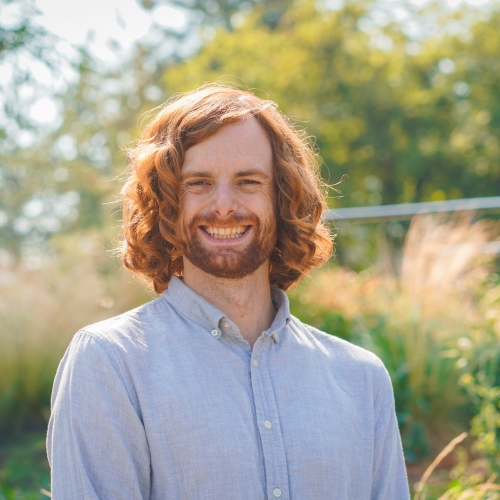 Aidan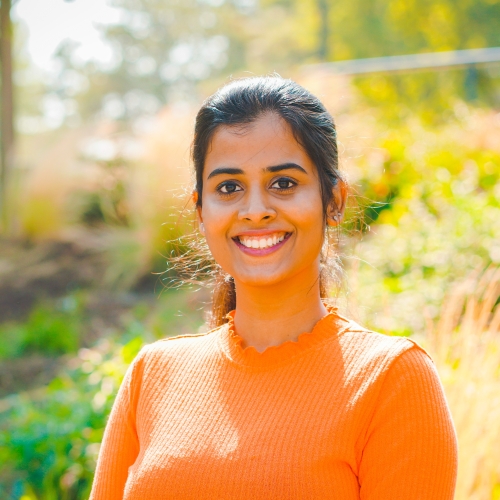 Aishwarya
I completed my undergraduate degree in Architecture from Chennai, India. Being brought up in a land which holds strong affinity towards heritage and richness in architecture, I had strong inclination towards the built environment. During my academic and professional journey, I streamlined my interest towards Urban planning, which involves in developing communities into a better place to live. Travelling around my country made me understand the different urban patterns and the rising issues of urban decay. This urged me to become a community planner whose role is not only about developing a neighborhood but also addressing the emerging environmental, cultural and socio – economic issues and proposing a solution by creating an eco-city. My ambition is to work as a community planner and I believe that including the users and inhabitant's opinions along with the cultural heritage factors while planning is a profound factor to develop a holistic city. My research interest is not only about developing the urban aesthetics but also improving the functionality and design of a community through sustainable methods by creating a smart city.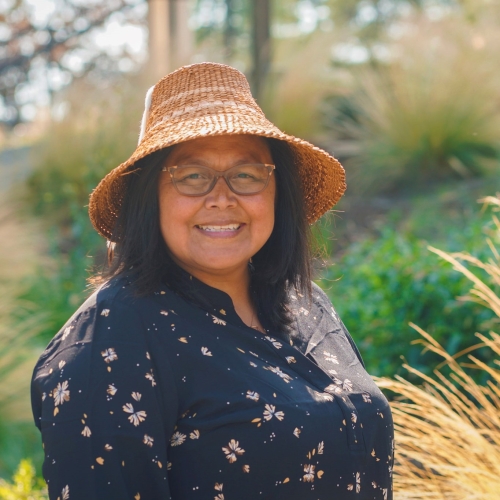 Daisy
Uy'skewul, Enthe'Pe Tus Ta Naat, Good Day, I am indeed Daisy Elliott and I come from Snuneymuxw on my mother's side and Musgmagw Dzawada'enuxw on my father's side. I have been working in the mental health field for 13 years, working with Indian Residential School Survivors and their families. The tainted history of settler and Indigenous relationship is one I not only hope but believe is in a direction of change. My return to attain a higher level of education is to be a part of creating a better relationship with all who live, play and work on Snuneymuxw territory. The choice I made in taking the MCP program, is to be a part of Indigenizing the planning process and researching the history of Indigenous planning.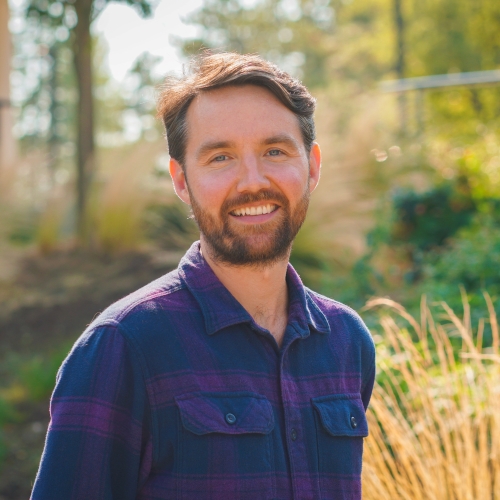 Dustin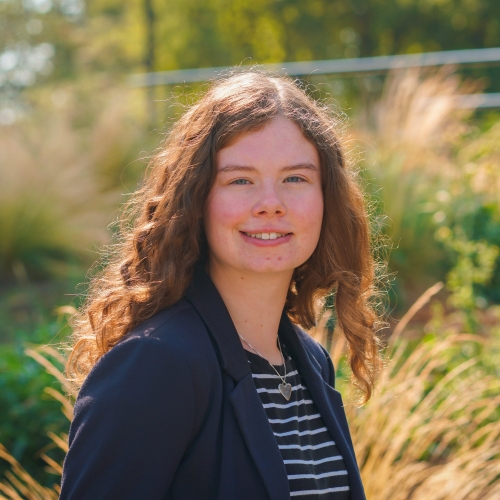 Hayley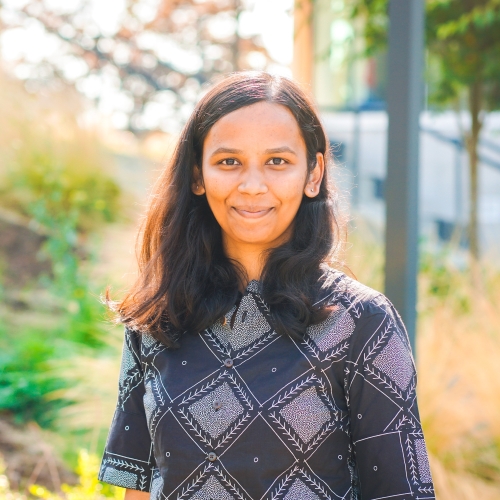 Himashri
My name is Himashri Heerekar, and I am from India. I am a graduate of Bachelor of Planning from School of Planning and Architecture, New Delhi. Later, I specialised in Urban and Regional Planning from School of Planning and Architecture, Bhopal. During the under-graduation program, I undertook internships at both public and private organisations where I enjoyed working on the projects of solid waste management, WASH, and urban design. After under graduation, another internship in a non-profit development organisation gave me hands-on experience as a planner in community engagement. Through my experience from the internships and studies, I developed interest in the fields of Urban Design, Community and Environmental planning. Having learned planning at city/ regional scale, I aim to now dwell deeper and master its design aspects for which Master of Community Planning at VIU seemed the perfect pick. I am now thrilled to be a part of this fun and creative program at VIU.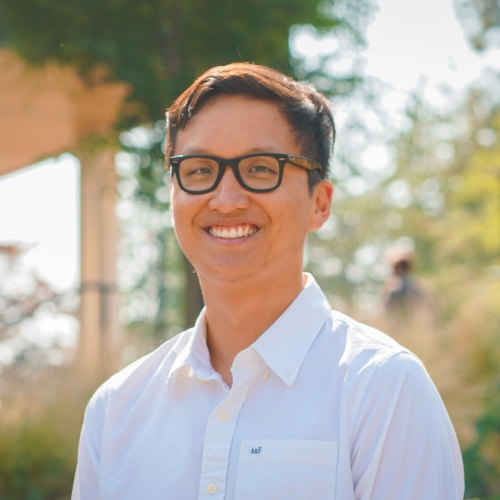 Justin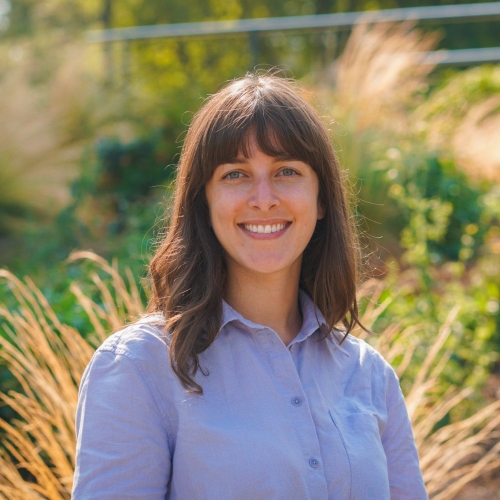 Kirsten
My name is Kirsten Hogg and I grew up in Qualicum Beach, BC. While completing a Bachelor of Science in Nutrition at Acadia University, I became increasingly interested in food security and community health promotion. With these interests, I came across the planning profession and how community planning can address and influence food security and the health of a community. Though I am interested and eager to learn about all aspects of planning, for my thesis, I intend to focus on strategies to increase the resiliency of food systems on Vancouver Island in the face of climate change.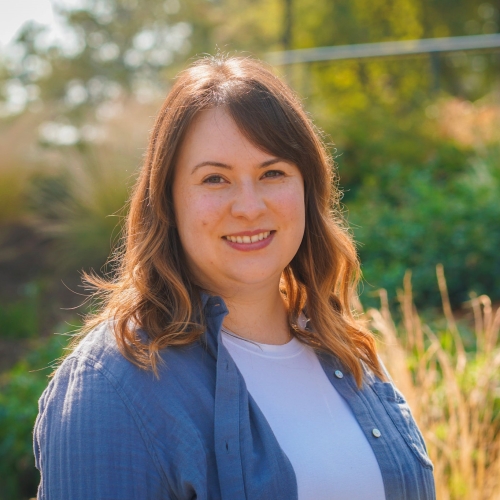 Leanna
I grew up in Guelph, Ontario and spent the last ten years in Vancouver where I received my Bachelor of Arts in Gender, Race, Sexuality and Social Justice studies from UBC followed by a Post-Degree Diploma in Applied Urban Planning from Langara College. Since graduating, I have worked for a non-profit as a Project Manager focused on placemaking and creating healthier, more vibrant urban public spaces, and recently as a Development Coordinator in Squamish. I am particularly drawn to the areas of active transportation, zoning reform, sustainable urban land development, and how planners can take equity-based approaches to city planning. I am excited by the profession of planning because it allows me to exercise many different skills in a variety of topics, all in a day's work, and to work on creating meaningful change in communities.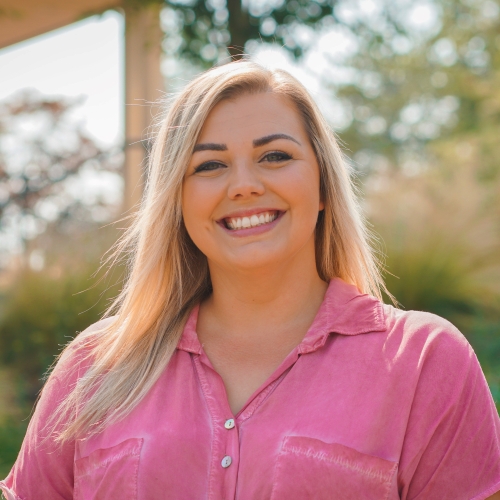 Mariane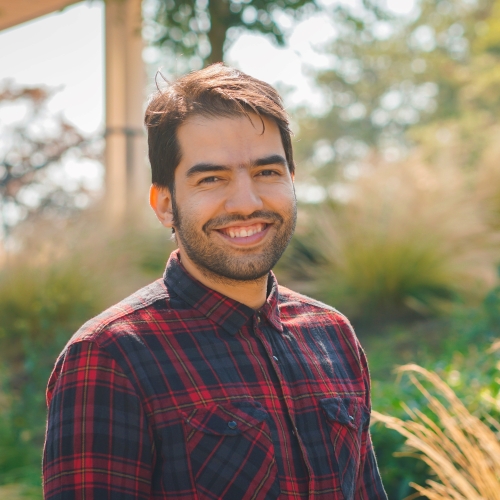 Milad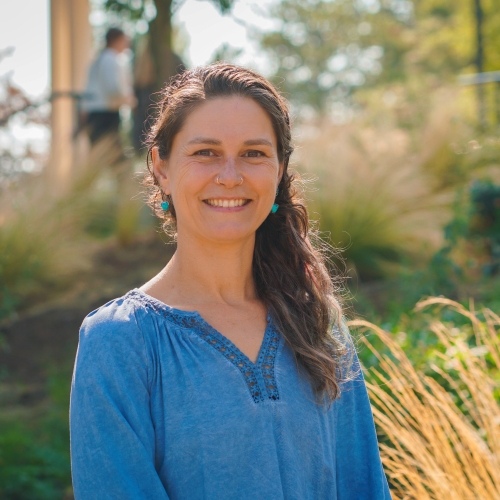 Nadine
My name is Nadine Wiepning. My journey towards the planning profession has been a long one, and I am grateful to finally be in a position to fully embrace this career path after 16 years of keeping my passion for environmental and social justice alive. My journey as an activist for environmental and social justice began more than twenty years ago in Ottawa. I have since spent hundreds of hours participating in various grassroots events, groups and movements, eventually moving to Nanaimo in 2004 to complete a Global Studies/Geography degree and find work in the non-profit and civil service sectors, including over two years as Green MP Paul Manly's Constituency Assistant before and throughout the pandemic. I'm interested in urban agriculture, but am open to learning about and working in a variety of planning aspects. As a "cultural creative," I transform my planet grief into art: www.gaiavisiondesign.com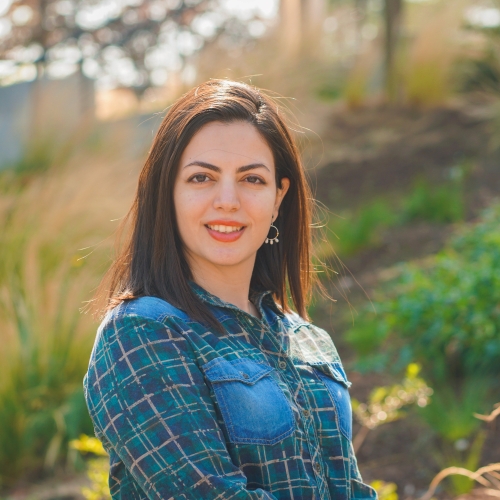 Niloofar
My name is Niloofar Ferdosi and I hold a bachelor of Architectural Engineering and a Master of Energy and Architecture from the University of Tehran, Iran. Taking courses about sustainability assured me that I would like to play my part as a caring citizen and become an expert in designing sustainable neighbourhoods and resilient cities which address the needs of all community members with minimal impacts on the environment. I decided to study planning to work on sustainable development on different scales and delve further into environmental, cultural, physical, human, economic and social issues. I learned architecture, sustainability and energy efficiency but Planning is the missing puzzle piece in my academic endeavours. What I have already learned and what I will hopefully learn in the MCP program can make a perfect combination, making me a competent energy architect and planner with special capabilities and interdisciplinary knowledge.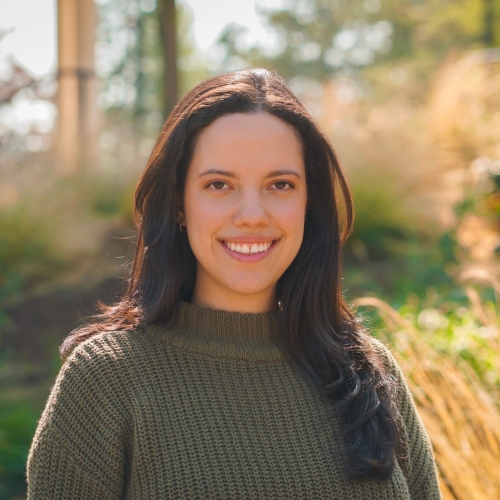 Paula
I was born and raised in Bogotá, Colombia, the country were I finished my Bachelor in Government and International Relations at Externado University. Growing up in the Colombian context as I did, witnessing numerous development challenges faced by the country, especially in rural territories, can undoubtedly wake you up to the need for change. During my years of undergraduate school, I had the chance to take some classes that focused on planning practices. That experience sealed my desire to keep studying the topic. It helped me understand that if you intend to change contexts, you need to start by properly structuring the community and its environment. I have previously worked with consultancy firms as a Public Affairs Consultant, a position were I had the opportunity to lead several projects on contextual socio-political analysis, and where I developed new strategic public affairs proposals for multinational companies that wanted to understand Colombia's social and economic context and how to act in it. I want to take that experience to transform those analytical skills into practical tangible solutions for the community. As we jokingly love to say: the plan for world domination is coming together just fine!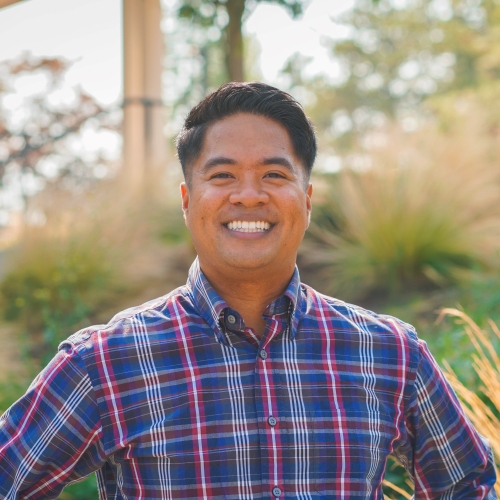 Riggs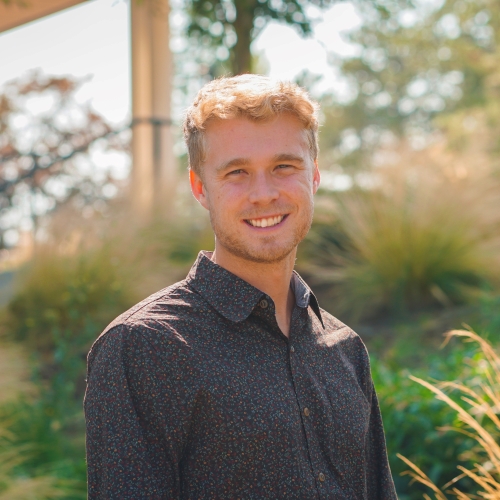 Sam
I began my studies at the University of Lethbridge, earning a Bachelor of Science in Geography with a focus on GIS, remote sensing and spatial analysis. At U of L my undergraduate thesis used remote sensing to measure wildfire fuel load near human disturbance in northern Alberta. During this time I also lead a Trail Crew in Waterton Lakes National Park, AB. Here, I found the joy of shaping the built environment and thinking about how people use the spaces that we create. I feel lucky to have found community planning at VIU where I hope to continue thinking about spaces as places for people. I am also excited to step into community planning at an important time for our communities to respond to challenges such as the effects of climate change or the housing crisis. My thesis topic at VIU seeks to establish what design principles and policies could reduce risk of wildfires at the wildfire urban interface.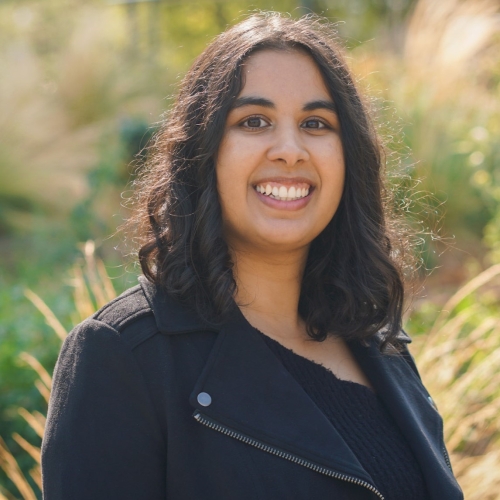 Serena
I graduated from Simon Fraser University with a Bachelor of Arts in Geography and a minor in French. I've always had a keen interest in social justice, and I decided that I wanted a career where I could empower minorities through community engagement. During my undergraduate, I became a Community Program Facilitator for Burnaby Neighbourhood House where I led a program that fostered connections between isolated seniors during the COVID-19 pandemic. I also helped run a workshop program where I taught seniors how to safely use technology and create their own virtual community programs. My current research interests include age-friendly cities, crisis planning, and housing affordability.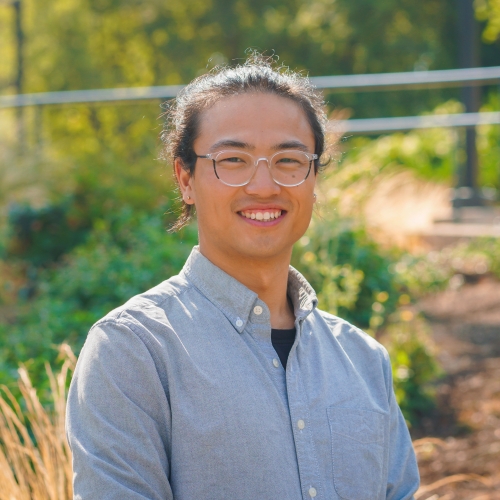 Shiming
I received my Bachelor of Arts degree in Philosophy from Mount Allison University in 2020. Through my studies in the history and philosophy of science, I became acquainted with the history of planning and gained an interest in the ways decisions regarding our cities go on to shape the way we live our lives. Primarily, I am interested in land use planning and studying how different land use regulations shape how a place evolves. While my interests are in land use planning and planning theory, I am always excited to learn about new topics. Outside school, you might find me sea kayaking or attempting to make furniture with hand tools.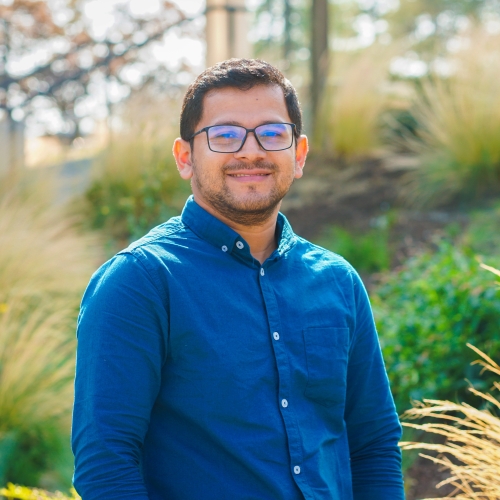 Tanmoy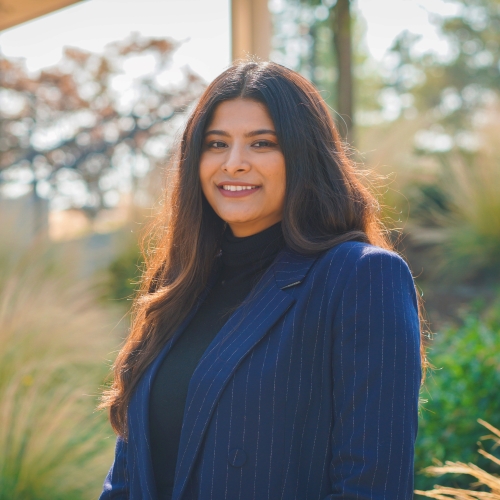 Tharini
I am Tharini Prakash, an Architect and LEED AP seeking to explore pathways through Planning, to evaluate core socio-economic and environmental policies and practices, to establish critical design thinking for sustainable future communities and cities that are inclusive. After being introduced to the planning profession by working alongside Urban Planners in the past on projects like the Sharjah Urban Planning Guideline Document, my perspective on the extensive scope of macro-level planning significantly shifted the way I perceived the transforming potential of effective planning policies and design decisions. I've been adoring my time with the MCP program at VIU, channeling my interest to construct the thesis project and research work on creating symbiotic communities centered around Ecological Urbanism, that combats the need for urban sprawl. Looking forward to professionally delivering sustainable built environments, collaborating with planners alongside acting as the liaison to the CIP as the student representative.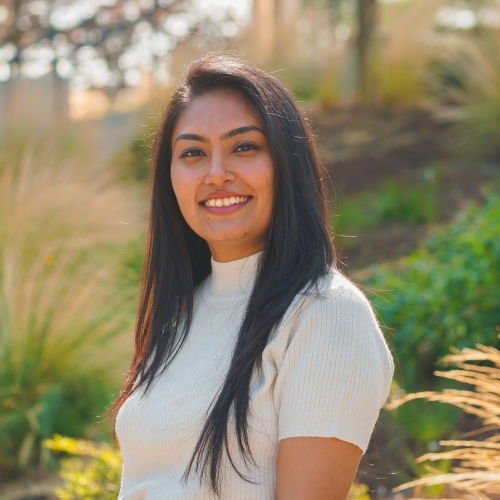 Vidhi
I am Vidhi Kyada an architect from India, born in Junagadh "City of Lions" and bought up in Surat "City of Bridges", Gujarat. The Institute of Civil Engineers and Architects (ICEA), Surat awarded me the "Silver Medal" for my bachelor of architecture degree in 2020. Over the course of one year as an intern, and then two years as a full-time architect, I gained a great deal of knowledge about architecture and planning. I got to work on Pond development, Housing Settlements, and Somnath temple urban development projects, which gave me a deeper understanding of planning and led me to have more in-depth knowledge of it by perusing the Master of Community Planning at VIU. Having the chance to study at VIU allows me to discover more about my areas of interest in community engagement, socioeconomic settlement, and inclusive planning on a smaller to larger scale.