The fundamental premise of liberal education is that human freedom, in its fullest sense, is a function of our wisdom concerning those matters which are most central to how we live our lives.

-- Malcolmson, Myers, O'Connell
Liberal Studies is truly a unique BA major and minor degree; there are few quite like it in all of Canada. It provides an interdisciplinary exploration of great works and ideas from the past and the present.
In our classes you will "meet" amazing thinkers and writers like Sappho, Plato, Galileo, Wordsworth, Wollstonecraft, Nietzsche and more. From philosophy to politics, to science, literature, art, and architecture, we examine a broad sweep of fascinating ideas that challenge us to re-examine our opinions. [See a list of our 2023 and 2024 Courses here.]
Guided by experienced professors, students immerse themselves in the ideas and debates that shape our civilization. This rich background uniquely prepares our graduates with a set of deeper perspectives with which to confront contemporary problems and issues. 
Liberal Studies students actively engage in their learning. They read and reflect on great works, attend lectures together, and then discuss their ideas in professor-led seminar groups of no more than twenty students. Students work on reading, writing, speaking, and thinking skills that will serve them well in work and in life. Liberal Studies graduates have gone on to careers in law, education, politics, communications, the arts and more.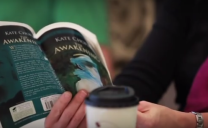 If you want a degree--but more than just a degree--if you want to pursue meaning and truth in a friendly community of fellow learners, then join us in Liberal Studies. 
A liberal education, we should tell the world, is not necessary for mere life but it is almost indispensable for a good life.

--Eva T.H. Brann
Come join the conversation!