Liberal Studies Abroad is an exciting opportunity for the on-site study of European cultural traditions. Programmes are open to everyone: they may be taken on a credit or audit (just for interest) basis, and participants may be accompanied by friends or family members.
Discover the Renaissance in Florence, Italy
May 15 to June 16, 2022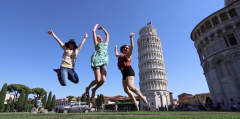 For more information, email the Liberal Studies Abroad Coordinator, Mark Blackell, at Mark.Blackell@viu.ca.