Liberal Studies Abroad is an exciting opportunity for the on-site study of European cultural traditions. Programmes are open to everyone: they may be taken on a credit or audit (just for interest) basis, and participants may be accompanied by friends or family members.
Discover the Renaissance in Florence, Italy
Tentative Dates: May 15 to June 16, 2023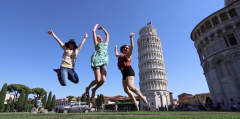 For more information, email the Liberal Studies Abroad
Coordinator, David Livingstone at David.Livingstone@viu.ca.