Miki Klaver: Liberal Studies and Education
After graduating with a BA in Liberal Studies, Miki took a BEd at VIU and taught Grades 4 and 5 for two years. She is currently pursuing an MA in English at the University of Victoria, where she also tutors undergraduate students.
"The Liberal Studies program at [VIU] was life-changing for me. I approached books such as Plato's Republic or Homer's Odyssey without mediation from an 'expert'.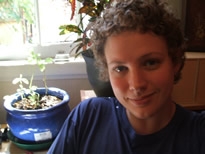 I learned that with careful reading and discussion with professors and other students, I could indeed grapple with very difficult material and understand it for myself. These reading and discussion skills have been invaluable to me, both in my further education and in my professional life. I feel confident that I can read any text, and given enough time and thought can understand the messages within, whether I agree with them or not.

"Also, Liberal Studies provided such a safe environment that I was able to really practice my listening and public speaking skills; dialogue with others, especially when we disagree, is essential to understanding and peace. These interpersonal skills have also served me very well in my work and education. I would recommend the Liberal Studies program to anyone, whether they are beginning their schooling or are simply interesting in expanding their understanding. I believe that a Liberal Studies education helps to create inquisitive people and better citizens. Give it a try! You'll be happy you did."