Connie Kovalenka: Liberal Studies
Connie Kovalenka graduated from the Liberal Studies program with distinction in 2007, returning to her job with what is now the Vancouver Island University Foundation.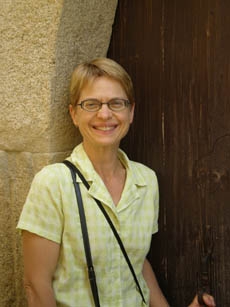 "A lifelong resistance regarding academic credentials paired with a desire to keep on learning shaped my academic life in Nanaimo, until I finally realized that I had many more credits than most Bachelor's degree grads traipsing past my downtown office during convocation ceremonies. This realization focused me towards finally completing a degree program.
"The reasoning towards pursuing Liberal Studies as that degree was, frankly, that it was the path of least resistance. Liberal Studies Abroad credits I had already earned coupled with the current course schedules and my work schedule meant a more comfortable logistical fit than my other choice, Visual Arts. The breadth of the Liberal Studies course work appealed to me and there were huge benefits in the fact that the program would help to define and inform my art work and art projects.
"During my (very part-time) three years in the Liberal Studies I also rediscovered a love of writing and editing, and although I struggled with the argumentative essay format because my inclination was always towards research, I still mostly enjoyed the struggle. Balancing work and school was an additional challenge, and I am grateful that my work department at Malaspina actively supported my educational commitment. I continue to work at the Malaspina Foundation office, and can once again contemplate taking courses strictly for pleasure!"