Vancouver Island University GIS Program Facebook page - find out what past students have to say about the program by connecting with them on FaceBook.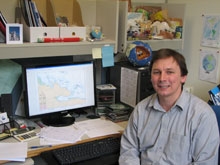 "One important aspect of the ADGISA program is the amount of practical work and hands on use of GIS software. This is an extremely important part of the course and while the workload is heavy at times the experience gained (and instructions and references that students obtain) is invaluable when solving real world GIS problems."
Mark Leblanc, 
Graduated May 2009
The instructors are great, and have a diverse background. This enables them to help students deal with a multitude of problems that may arise. They are there for every student, and are very approachable for help any time.  The instructors are current and try to give the most up-to-date examples and situations in the class room.  The labs are designed to create thinking, and knowledge about the software (Esri ArcGIS).

The course also offers a practicum program which is a great learning tool as well as helps to build up experience, skills, and networking opportunities within the GIS industry. The practicum allows students to grow from the skills that the instructor provided, as well as learn and adapted to new ideas and problems.  The foundation the program gives students is far greater than any one Esri online course or GIS workshop could ever give an aspiring GIS professional.  With my training and base knowledge provided by the course I was able to excel in my practicum, and be seen as a true professional in the GIS field.
Andrew Smith
Graduated May 2009
"Right now I am in Louisiana mapping an oil spill until the end of the month. We have people down here from many different organizations (NOAA, Fish and Wildlife, Louisiana Oil Response Centre, Louisiana Health, Louisiana Fish and Wildlife, not to mention 3 different consulting companies). There is one other GIS guy and myself that are doing all the information management (GPS, Cameras, Database, GIS, and data sampling forms) for all parties… It certainly is fun though… Thanks for the start you have given me in my new profession (I absolutely love it)."
Jed Jackson
Graduated May 2006
MacDonald Environmental Services, Nanaimo, BC
...By the way the interview rocked!!!  They threw some interesting questions my way but I never got stumped.  You guys have done a great job exposing us to everything employers are after, except maybe the 3D stuff and fly-throughs.  Thanks :)
Shari Willmott
Graduated May 2009
"I am currently employed with the Ministry of Agriculture and Lands, in the Integrated Land Management Bureau supporting planning projects in the Coast Region. I am really enjoying working with them and have found that the education that I received at [VIU] has been extremely valuable in my new position. The focus on ArcGIS software within the program really fits well with my new job as the Provincial government uses this software exclusively. The Advanced GIS Diploma Program has launched my new career as a GIS Technician, a career that I love and look forward to advancing within."
Sally Bertram
Graduated May 2006
BC Ministry of Water, Land And Air Pollution, Nanaimo, BC