Upcoming Webinars
If you're interested in learning more about our GIS programs, sign up for one of our upcoming Webinar information sessions.  Details can be found from the Webinars tab.
MGISA's First Graduates
The fist cohort of the MGISA program started in Fall of 2015 and the first graduates from the program completed their studies in Summer 2017. This February, two of their graduation became official during VIU's winter convocation ceremony. In attendance was Aaron Wong (shown on the right), who completed his research on "Evaluating the effectiveness of Marine Protected Areas (MPAs) in Belize". One of the marshals during convocation was Prof. Paul Zandbergen, one of the GIS faculty and also Aaron's research advisor.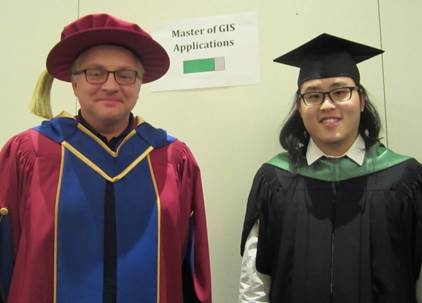 Also completing their MGISA program as part of the first cohort were George Barian, Jennifer Rolph, and Tyler Pubben. The second cohort started in Fall 2016 and students are expected to complete their studies in Summer 2018. The MGISA program is offered on the Nanaimo campus, as well as in a completely online format..
New Master of GIS Applications Program Approved for VIU
VIU has received approval from BC's Ministry of Advanced Education and the provincial Degree Quality Assessment Board to offer a two-year Master of Geographic Information Systems (GIS) Applications program starting in September 2015.
"We're recruiting students for this exciting new program," says GIS faculty member Dr Michael Govorov. "This applied master's program is closely tied to our existing 10-month Advanced Diploma in GIS Applications program (ADGISA).
"We'll draw on the expertise of faculty from within the ADGISA program," adds Govorov. "Students will benefit from small class sizes, quality instruction with high levels of student/professor contact. Face-to-face students can also count on gaining relevant work experience through practicum placements with industry partners."
According to GIS faculty, there is a high demand for trained GIS specialists with companies in BC, Canada and around the world. Graduates of the new master's program will be well-positioned to seek advanced positions as senior consultants, analysts or managers.
In development since 2008, the new master's program will provide enhanced technical skills for students who have completed GIS programs at VIU and other institutions across Canada. The master's program is also open to students who have limited experience with GIS, hold a bachelor's degree from a recognized university in any discipline, and meet certain admission criteria.
Applicants, who have already completed the ADGISA diploma program at VIU, or another post-graduate GIS diploma program, may be eligible for direct entry into the second year of the program.
Stage 1 of the master's program (first year) will be offered at VIU's Nanaimo campus in September 2015. A fully online option will be available in January 2016.
"In stage 1, students relatively new to GIS will learn the technical background that they need," explains Govorov.
Stage 2 (available in September 2016) will focus on teaching students advanced technical and managerial skills. Students will also complete a substantial research project under the supervision of a GIS faculty member in consultation with an industry partner.
According to faculty member Dave Cake, VIU's ADGISA's graduates work all over the world, including Australia, the US and all across Canada, as GIS software developers, analysts and consultants.
"GIS is a great field to pursue," says Cake. "One of our graduates flies around in helicopters doing snow surveys all over BC. Others are working for engineering companies, private firms and government ministries on various projects including designing 3D buildings and creating electronic databases. I'm certain our master's graduates will also find exciting job opportunities in BC and beyond."
For more information about the new master's program, contact Dr Paul Zandbergen at Paul.Zandbergen@viu.ca or go to MGISA website and the MGISA Program Calendar page.
Ukraine Spatial Data Infrastructure Courses Continue on Schedule
The GIS faculty, in conjunction with our counterparts in Ukraine, have delivered several courses to Ukrainian civil servants as part of an international aid project, funded by the federal Department of Foreign Affairs, Trade and Develpoment, to help modernize the Ukrainian land records system.