2023 Geography Award Winners
Congratulations to all of our 2023 Geography Department award winners!
Award for Service to the Geography Department: Emma Morrison-Turley
Carto Cup 2023: Emma Morrison-Turley (Web Map), Eric Martinen (Static Map)

CAG Undergraduate Award: 
Lady Rose Award: Sierra De Buysscher-Nailor
Don Stone Scholarship: Brayden McClary
This Changes Everything!
Showing of 'This Changes Everything' Documentary (2015) and following discussion on 30 years since the Earth Summit, COP1 to COP27 and more. The event takes place November 29, 2022 from 4:30 to 6:30 pm in Building 355, Room 211, Nanaimo Campus. All are welcome!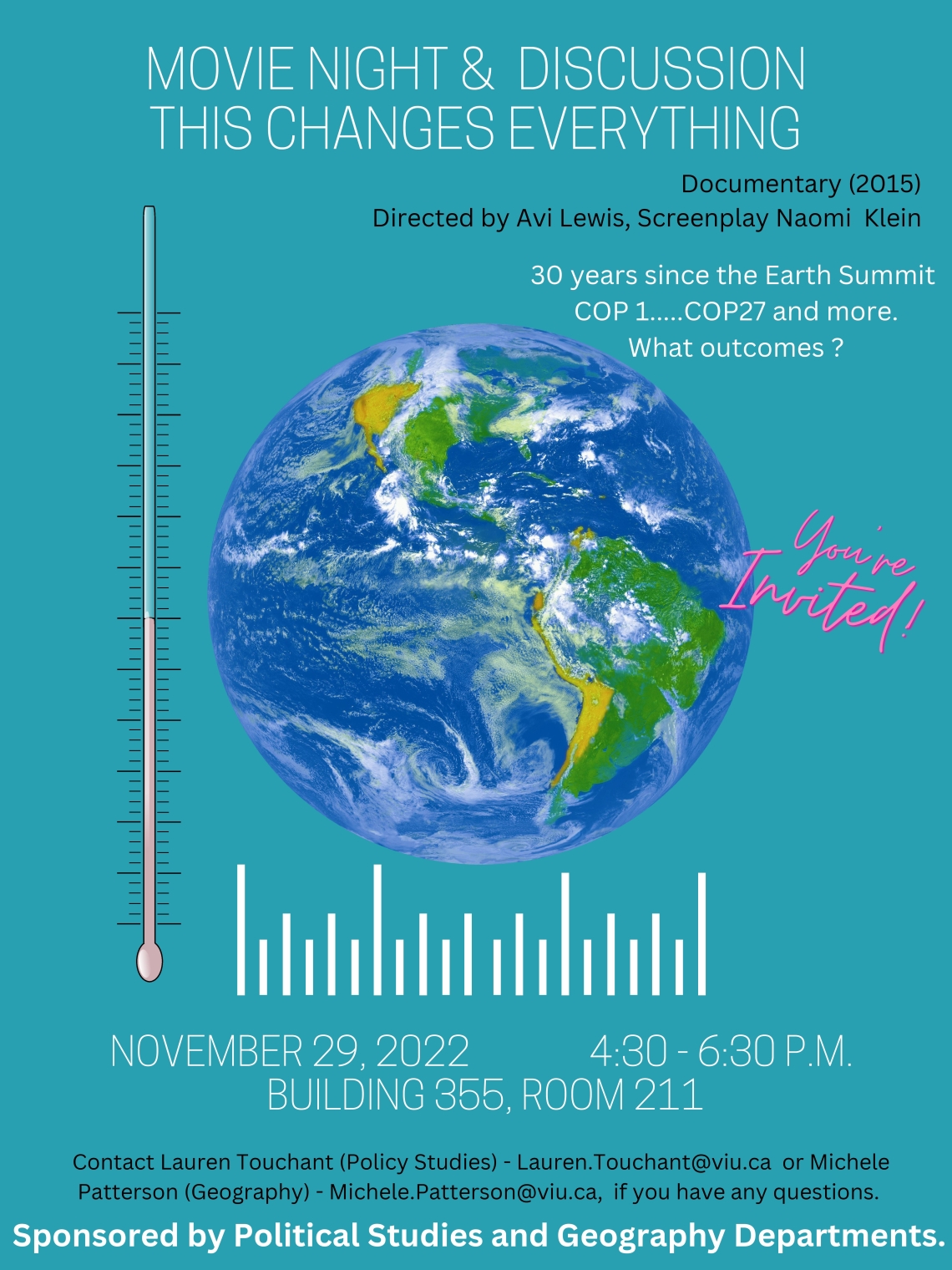 Welcome to Dr. Juliane Collard
We'd like to give a big warm welcome to our latest member of the Geography team, Dr. Juliane Collard! You'll see her this year teaching GEOG 100, 101, and 344 in the Fall and GEOG 100, 101, 340, and 433 in the Spring. GEOG 433 is our special topics course which will be on Feminist Geographies this year (see below for more info).
"I'm a feminist geographer whose research and teaching focus on intersections of space, capitalism, and power, with a particular focus on the science and politics of biological reproduction. I work with a wide range of scholarship, including feminist geography & feminist political economy, critical legal theory, political ecology, and science and technology studies. An ongoing research project examines the relationship between law and capitalism in Canada's surrogacy bioeconomy. I completed a PhD and master's in geography at the University of British Columbia. Before joining VIU, I was a SSHRC postdoctoral research fellow affiliated with the University of Bern and UBC."
GEOG 433 Special Topics in Geography: Feminist Geographies
New this spring, our special topics course will be covering Feminist Geographies! This course is open to all VIU students with 3rd year standing. It will be offered in a Face-to-face format, Tuesdays and Thursdays from 10:00 to 11:30. Students are able to take up to 3 different offerings of this course. Register for it now!
Course Description:
What do 16th century witch hunts, 21st century reproductive politics, and climate change have in common? Come find out in this feminist geographies seminar! Over 14 weeks, we'll dig into the relationship between gender, power, and space across time and place, developing our understanding of feminist geography along the way. We'll engage with a wide range of materials from scholars and activists within and beyond geography, including work by de-colonial, critical race, and queer feminists, among many, many others.
Geography Technician Assistant Work-op position
Student Assistant needed to help manage the Geography Department's map and airphoto library and field equipment (file and inventory topographic and thematic maps and aerial photographs, equipment preparation and maintenance). Also, assist with compiling and mapping geographically based data and to collaborate with faculty and community partners on projects. As well as, assist with the maintenance of the department's website, social media, and event notices; and liase with students and faculty on department events.
Job requirements:
Requires a basic knowledge of geographic concepts, aerial photographs, topographic and thematic maps, and basic map literacy.
Requires basic computing skills, including a basic understanding of GIS software, and familiarity with common social media.
A well organized, reliable, and self-motivated individual.
A BA or BSc student enrolled in a minimum of three 3-credit courses, or 2 ACP/ ESL courses at VIU. For students with a recognized disability, they must be enrolled in a minimum of two 3-credit courses, or 1 ACP / ESL course.
Available to work 50 hours during the semester.
Wages: $15.65/hr
Application Deadline: September 13, 2022
Email cover letter and resume to Jessica Craig, Geography Technician (Jessica.Craig@viu.ca)
2022 Geography Award Winners
Congratulations to all of our 2022 Geography Department award winners!
Award for Service to the Geography Department: Sarah Brosseau
Carto Cup 2022: Koby Trinker

CAG Undergraduate Award: Morgan Johnston
Lady Rose Award: Cam MacNeil
Don Stone Scholarship: Catherine Norman
15th Annual Urban Issues Film Festival
The Annual Urban Issues Film Festival is back after a two-and-a-half-year hiatus due to COVID-19. This is the 15th offering and this year has a very special theme: "Global Indigenous Voices and the Climate Crisis." We are proud this year to be part of VIU's Global Citizens Week.
Our keynote speakers will be Joan Brown, CAO of the Snuneymuxw First Nation, and Scott Saywell, Superintendent of SD68, who will speak about their deep, continuous connection, walking hand in hand to support land stewardship in all of the school district's operations. In addition to a number of short films, the feature will be "The Condor and the Eagle" about Indigenous land and water defenders of North America showing their solidarity with their counterparts in South America. The event will take place 
When: February 11th, 4:30 PM - 9:00 PM
Where: VIU, Building 355, Room 203