QES Internships - Call for Applications
Applications have opened for Queen Elizabeth Scholarships for summer 2021 internships through the 'Building Resilience in Coastal Communities' project.  
Funding is available to support internships (undergraduate and graduate students) for 3 months in an eligible Commonwealth country with a focus on sustainable economic activity, particularly tourism, enhancement of water in coastal zones, management of parks and protected areas in or near coastal communities, community response to climate change, and sustainable aquatic foods and local agricultural production. 
Deadline to apply: Friday, December 3, 2021
Application packages, eligibility criteria, host countries, funding details are all available on the Queen Elizabeth Scholars website.
Learn more about the Universities Canada QES program.
You can also contact VIU Education Abroad for more information. (EDAbroad@viu.ca)
Winner of the CAG Undergraduate Award
We are pleased to announce the winner of the 2021 CAG Undergraduate Award, Colt Gnech!
This award celebrates an outstanding student in the Geography Program. Each Geography Program across Canada nominates one winner, through the Canadian Association of Geographers (CAG). Colt had an outstanding GPA in his undergraduate degree, and will be continuing on to graduate school, enrolling in the MGISA program at VIU. 
Congratulations Colt!
Our Geography Tech is going on Leave next year!
Hello All!
This past year has brought a lot of new challenges and experiences for everyone. Fingers crossed everything goes well and we can meet in person next semester on campus. I personally won't be there to join everyone though. I found out this past fall that I have a little one on the way. Baby is due any day now! Therefore, I'll be away on leave for a year. In the meantime we've found someone awesome to step in to the Geography Tech role. Emily Lambert will be starting Monday April 12 and will shortly thereafter take over for me until next year.  
If you have any questions contact Michele Patterson, our department chair (geochair@viu.ca) or Emily Lambert (Emily.Lambert@viu.ca).
Happy Spring!
Jessica Craig
Geography Tech.
Fall 2020 Grad Student Info Session
If you missed it, don't worry! Here's the video of our info session: 
Grad Student Infor Session Fall 2020 Video Highlights
As Paul was unable to attend the session; here is the video for the Master / Advanced Diploma in GIS Applications
Included in the video chat for the info session were Trevor and Alex's email addresses: TrevorDickinson@viu.ca, alex-harte@hotmail.com
Also in the chat were Jeff's links re: funding sources for grad school
And Jason's slides:  Jason's Grad School Slides
Fall 2020 Geography Welcome Back 
Here's the video for all the Introductions, Announcements and Departmental News we covered at our Welcome Back Event...
Geography Welcome Back Event Fall 2020 Video Highlights
GEOG 433: Power, Places and People
Spring 2021, There's still room if you're interested!
"Do you want to understand how power and place are related? Do you want understand how power and place shape identity and control people, all while earning 4th year credit towards your degree? GEOG 433 this spring is the right course for you!"
Any Questions? Contact Jason Young (Jason.Young@viu.ca)
Course Overview
In this course, we will survey Political Geography, a subfield of Human Geography which focuses on the geographic expression of power. All politics are geographical, from the spatial arrangement of local governments to the territorial basis of international trade. The discipline has traditionally focused on boundaries and borders (territoriality), but more recent approaches address other types of spatial relationships as well, particularly in terms of surveillance, voting and representation, and spatial ordering. We will explore both approaches in order to develop a practical and theoretically informed understanding of nationalism, the state, urban and global governance, federalism (particularly in multi-ethnic contexts), and political representation. In exploring such topics, the class addresses questions of power, identity, and democratic theory, as well as the relationship between the individual and the state.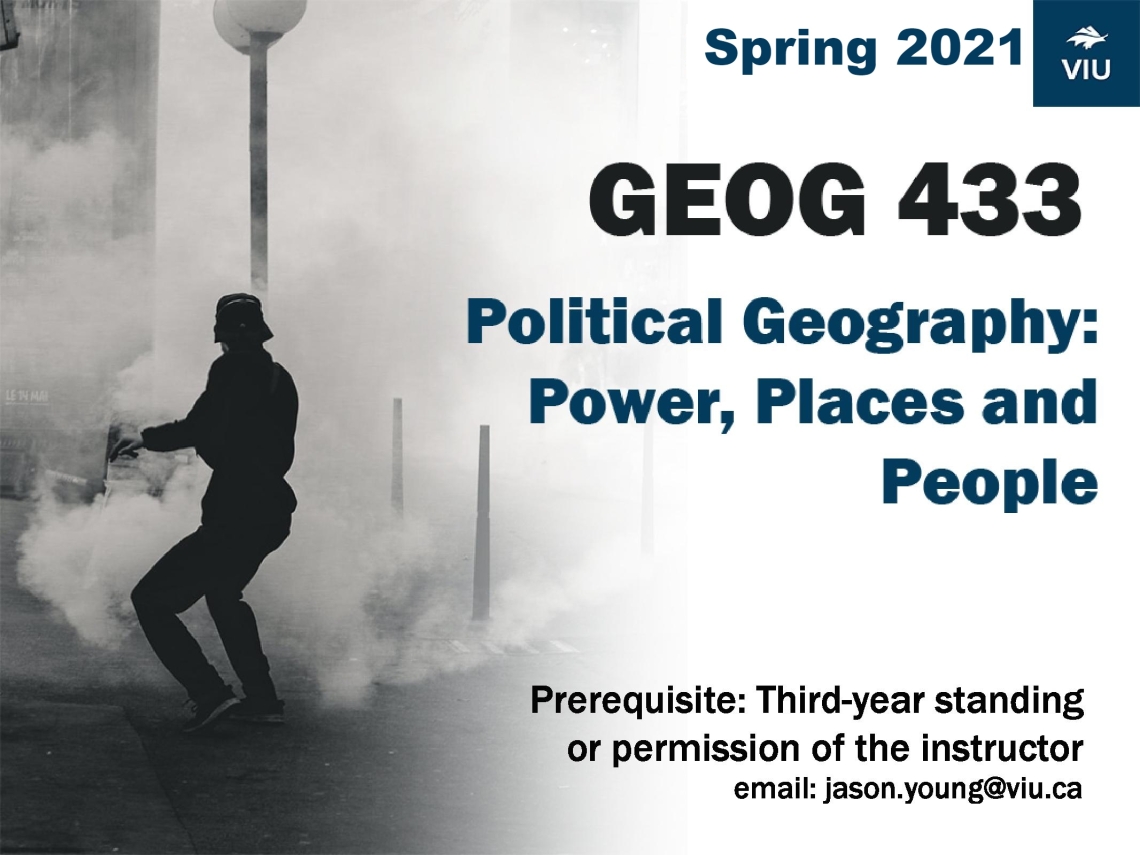 2020 Geography Award Winners
Congratulations to all of our 2020 Geography Department award winners!
Award for Service to the Geography Department: Sophie Laboissonniere
Carto Cup 2020: Chloe Sandahl
CAG Undergraduate Award: Alex Harte
Lady Rose Award: Cancelled due to COVID-19
Don Stone Scholarship: Colt Gnech
New Summer 2020 Course!
If anyone is still looking for a summer course, Geog 433: Special Topics in Geography has a few seats left. This summer offering is "Political Geography: Power, Places and People". It is open to anyone at VIU with 3rd year standing.
"Do you want to understand how power and place are related? Do you want understand how power and place shape identity and influence people, all while earning 4th year credit towards your degree? GEOG 433 this summer is the right course for you!"
14th Annual Urban Issues Film Festival – "The Best Ever…"
November 8th saw the launch of the 14th Annual Urban Issues Film Festival on the theme of "Urbanization Around the World." At its peak, approximately 100 people were in attendance. In addition to a variety of dynamic short films, the organizers also experimented with Menti, an interactive program that audience members used to voice their opinions on their phones in relation to the films and related topics. Two members of the organizing committee also premiered a short film in which international students weighed in on the differences between Nanaimo and their home communities.
The whole event was MCed by VIU grad, Caelen Middleton, who brought boisterous good spirits to the event. In addition to sponsorship and donations by the Geographic Students' Union, the Master of Community Planning (MCP) Students' Association, Geography, MCP, and the Sustainability Advisory Committee, the Planning Institute of BC (North Island chapter) co-sponsored and paid for the free pizza dinner for everyone in attendance. A hallmark of this year's festival was that it was exclusively student-led. Some of the students who were actively involved in organizing this year's event will still be around for next year's 15th year – Ruby – Festival which we are anticipating will be a smashing success!
[caption caption="The Crew of volunteers for the Film Festival