2023 Carto Cup Competition
The winners of the 2023 Carto Cup Competition are Emma Morrison-Turley (Geography) and Eric Martinen (ADGISA)! Having several entries that included both static maps and dynamic maps, it was decided by the judges this year to split the competition between the create two categories. Emma won for best dynamic map and Eric won the best static map. Check out the Carto Cup Webpage for more on their maps and on the Carto Cup Contest. 
Emma's map was part of her GEOG 428: GIScience Applications project. Her map examines a walking and driving time analysis of existing elementary schools in Salmon Arm BC. She wanted to see how much area was encompassed by a 10-minute walk and a 5-minute drive for each school. This was to help locate where She thought they should put a new elementary school! You can explore her map by following this link: https://viu.maps.arcgis.com/apps/webappviewer/index.html?id=8281e6433bb046f78b20f776d49e7dc6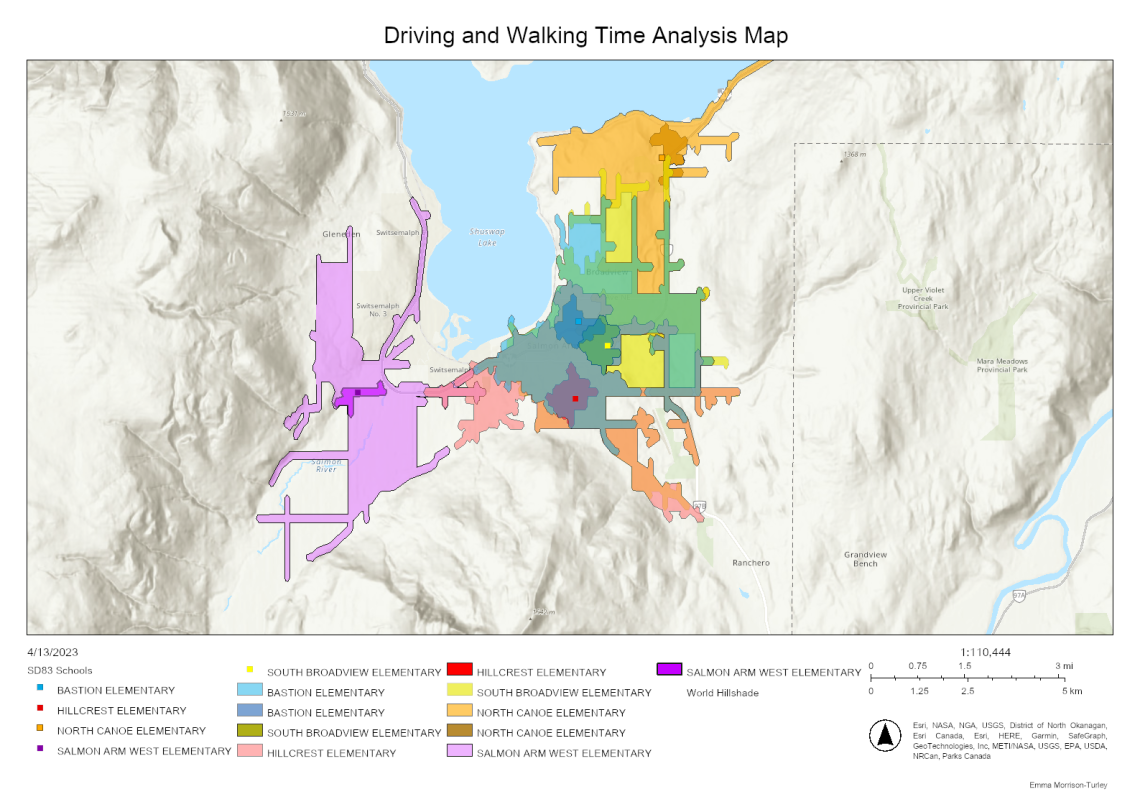 Eric's map was part of his Advanced Diploma in GIS Applications program. "LiDAR sensor technologies have been useful as a relatively new method to generate elevation models of various terrain.  These sensors use various platforms to 'remotely sense' objects within their range.  One popular platform for LiDAR is the use of Drones.  This submission to Carto Cup 2023 was developed after a private client requested elevation and surface models be generated from pre-existing Drone data." - Eric Martinen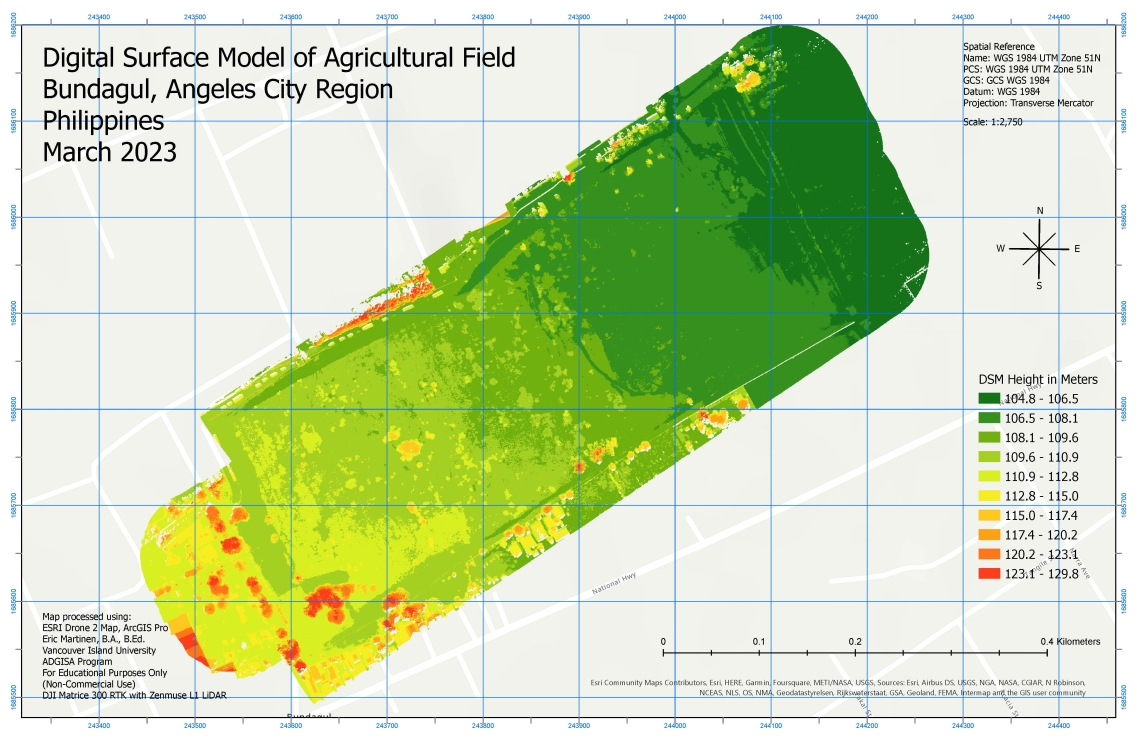 Advanced Diploma in GIS Applications Final Project Presentations

Each year students of the Advanced Diploma in GIS Applications deliver a final presentation summarizing their practicum projects to their fellow students, instructors, sponsors and the VIU community at-large.
Guests are welcome to come and go as you please, so you can drop by the presentations based on those projects which might interest you. I have included a schedule (below) indicating the order of presentations, so you can at least get a rough idea of when a particular student will be presenting. Most presentations are about 30 minutes long including questions or discussion at the end, but times can vary quite a bit.

Thursday, April 27: VIU Nanaimo Campus in Building 355, Room 203,
10:00 am Morning session
Taylor Clark - "Cumulative impact mapping analysis QA/QC" Department of Fisheries and Oceans
Eric Martinen - "Cumulative Impact Assessment Mapping" Department of Fisheries and Oceans
Tabi Agbor - "Walley Creek Stormwater Modeling" Nanaimo Area Land Trust
Manti Burke - "VIU Earth Science Department Archival System" VIU Earth Science Department
12:00 +/- Lunch
1:00 pm Afternoon session
Chloe Swabey - "Using Elevation Bands to Estimate Bias in LiDAR Derived Snow Depth Measures" Coastal Hydrology Research Lab
Manny Odonkor - "Shoreline Erosion Susceptibility" MC Wright and Associates
Nafiseh Seyedmosallaei - "Equitable Access of Family-Sized Houses to Services in the Rockland Neighborhood" Sustainable Planning and Community Development, City of Victoria
Friday, April 28: VIU Nanaimo Campus in Building 355, Room 203. 
10:00 am Morning session 
Vlad Tsybikov - "Ecological Accounting Process and Automation" Mount Arrowsmith Biosphere Region Research Institute (MABRRI)
Le Breton, Jake - "Beaufort Watershed Data Integration" Beaufort Watershed Stewards
Sambhavi Kudia - "Wet'suwet'en GIS Support" Wet'suwet'en Treaty Office Society
Lizzie Yates - "Geospatial Enterprise Web Map Services" Canadian Hydrographic Service
12:00 +/- Lunch
1:00 pm Afternoon session
Aheli Nandi - "Wildfire Impact Mapping with ArcGIS Insights" BC Timber Sales
Prashant Pednekar - "Spatial Analysis and Mapping Support for Pacific Region FieldNotes" Spatial Data Unit, Fisheries And Oceans Canada
Sharvari Gaikar - "Reforestation in Rural and Semi-Natural Landscapes" Dr. Sean Sloan, Canada Research Chair, Human Dimensions of Sustainability and Resilience
Join the Geographic Students' Union (GSU)!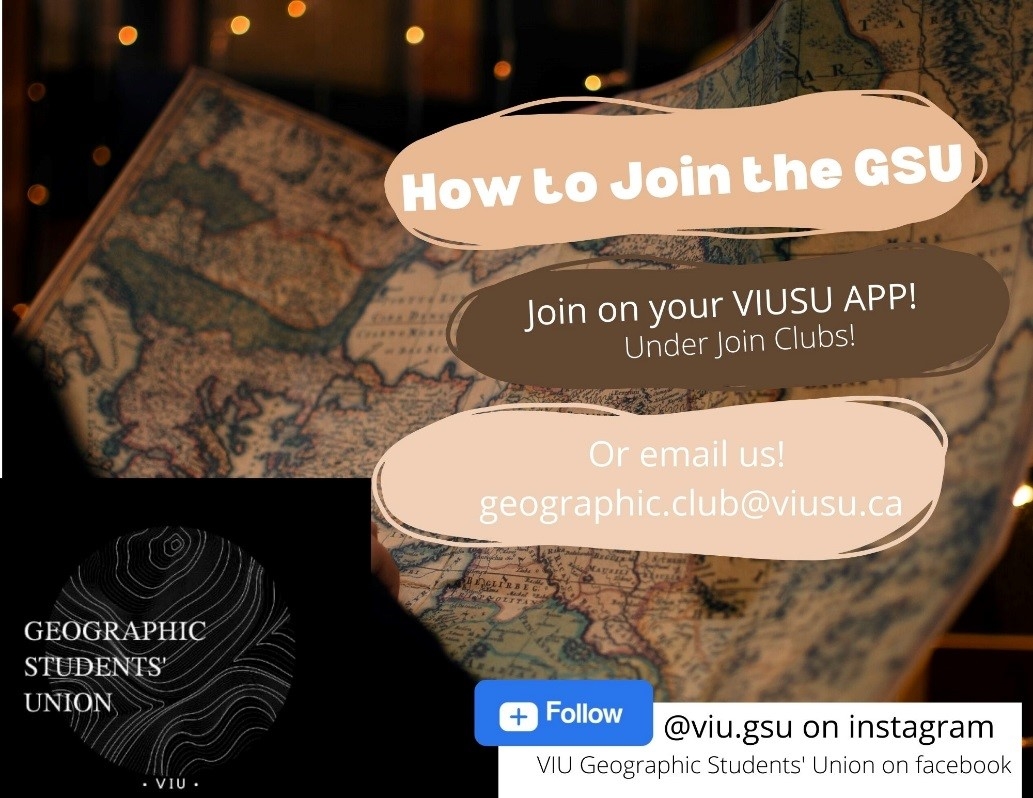 The Geographic Students Union (GSU) invites all students to join and meet other geographically minded people in a social setting. We have in the past put on events such as Trivia night, park clean ups and foraging and are planning to continue doing so this year. There are other activities we have done in the past such as helping out with the annual Urban Issues Film Festival and helping students fund trips to Geography Student Conferences. Stop by and see them at the club fair or checkout the white board in the map room for meeting times and stay tuned for events! It's a great way to meet your fellow students, get involved in activities you are passionate about, and looks good on a resume too.
VIU Geographic Students' Union on Facebook
VIU GSU on Instagram
email: geographic.club@viusu.ca 
2022 Geography Award Winners
Congratulations to all of our 2022 Geography Department award winners!
Award for Service to the Geography Department: Sarah Brosseau
Carto Cup 2022: Koby Trinker

CAG Undergraduate Award: Morgan Johnston
Lady Rose Award: Cam MacNeil
Don Stone Scholarship: Catherine Norman

2022 Carto Cup Competition
And the winner of Carto Cup 2022 is... Koby Trinker! 
This year's winner is the first web map app submission to win the Carto Cup! Congratulations on winning Koby! Follow the link to interact with Koby's map: Exploring Watersheds of Vancouver Island for Possible Whitewater Kayaking Locations
"I am both a whitewater kayaker and an explorer, and this map is meant to assist me and potentially other Vancouver Island whitewater kayakers. This project was a map of the watersheds and rivers of Vancouver Island. I tailored the map so that myself and other whitewater kayakers could use it as a first step in finding potentially suitable river sections on Vancouver Island that remain undocumented or unrun, with the intention of eventually going out to paddle them. This project began as a web map for my GEOG 328 cartographic project, and then was expanded upon for my final spatial analysis project which was my submission for the Carto Cup!" - Koby Trinker