Join the Geographic Students' Union (GSU)!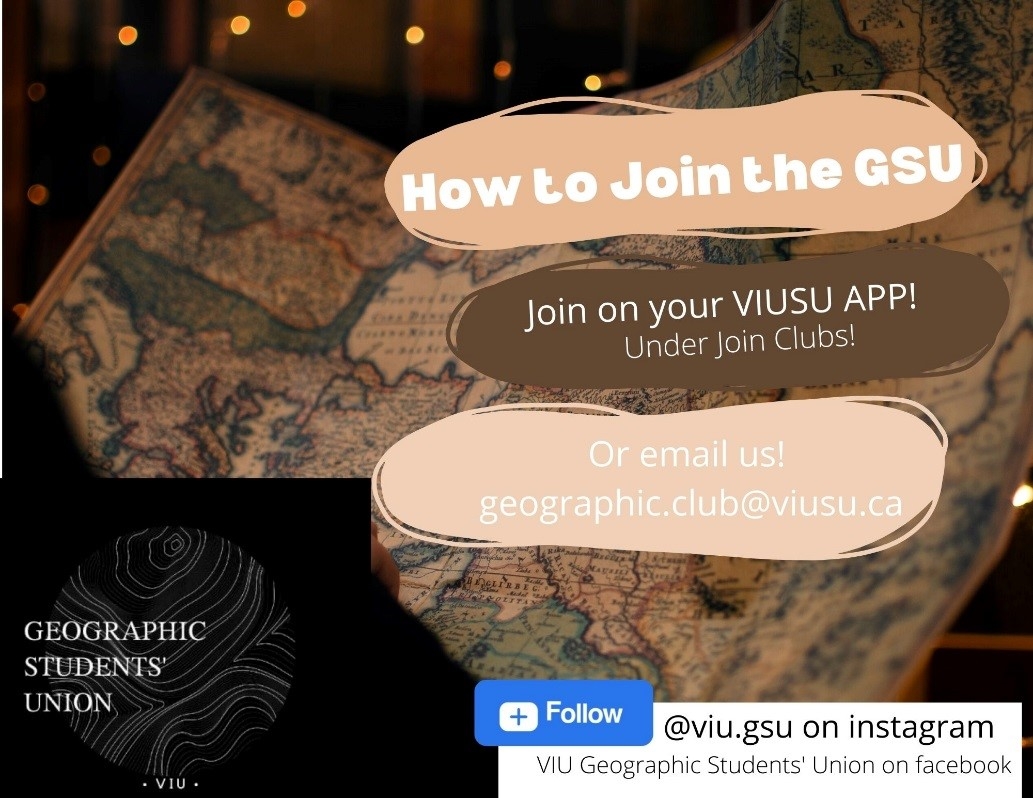 The Geographic Students Union (GSU) invites all students to join and meet other geographically minded people in a social setting. We have in the past put on events such as Trivia night, park clean ups and foraging and are planning to continue doing so this year. There are other activities we have done in the past such as helping out with the annual Urban Issues Film Festival and helping students fund trips to Geography Student Conferences. Stop by and see them at the club fair or checkout the white board in the map room for meeting times and stay tuned for events! It's a great way to meet your fellow students, get involved in activities you are passionate about, and looks good on a resume too.
VIU Geographic Students' Union on Facebook
VIU GSU on Instagram
email: geographic.club@viusu.ca 
2022 Geography Award Winners
Congratulations to all of our 2022 Geography Department award winners!
Award for Service to the Geography Department: Sarah Brosseau
Carto Cup 2022: Koby Trinker

CAG Undergraduate Award: Morgan Johnston
Lady Rose Award: Cam MacNeil
Don Stone Scholarship: Catherine Norman

2022 Carto Cup Competition
And the winner of Carto Cup 2022 is... Koby Trinker! 
This year's winner is the first web map app submission to win the Carto Cup! Congratulations on winning Koby! Follow the link to interact with Koby's map: Exploring Watersheds of Vancouver Island for Possible Whitewater Kayaking Locations
"I am both a whitewater kayaker and an explorer, and this map is meant to assist me and potentially other Vancouver Island whitewater kayakers. This project was a map of the watersheds and rivers of Vancouver Island. I tailored the map so that myself and other whitewater kayakers could use it as a first step in finding potentially suitable river sections on Vancouver Island that remain undocumented or unrun, with the intention of eventually going out to paddle them. This project began as a web map for my GEOG 328 cartographic project, and then was expanded upon for my final spatial analysis project which was my submission for the Carto Cup!" - Koby Trinker