Dr. Don Alexander (PhD University of Waterloo)  co-organized a 'Sustainability Across Curricula' workshop for faculty and students during the spring Reading Week under the sponsorship of the Sustainability Advisory Committee, of which he is co-chair. It was successful and the notes from the World Café discussion are being written up for presentation at an international conference on sustainability this January. He also helped organize the 13th Annual Urban Issues Film Festival, and a campus showing of the recent film, "Metamorphosis," on climate change. He is currently writing a book on bioregions and biosphere reserves as vehicles for sustainability and is in the process of publishing profiles of three significant activists in magazines based in the Lower Mainland.
Dr. Matthew Bowes (PhD University of Victoria) is a human geographer who has focused his recent research on recreation and leisure behaviour and human-wildlife conflict on the west coast of Vancouver Island. This Parks Canada and Clayoquot Biosphere Trust supported work was presented at the 'Tourism Naturally,' international conference in Fall 2016 at the  University of Sassari, Alghero, Italy, and the 2016 Couch Stone Symposium: Society for the Study of Symbolic Interaction Conference at Vancouver Island University, Spring 2016.  Matt continues to be involved with a Vancouver Island Regional Wildlife Co-Existence working group with Parks Canada and the Clayoquot Biosphere Trust, with upcoming presentations and talks in coastal communities, this winter.
Jessica Craig (BSc, MSc University of Victoria) once again designed and hosted a series of workshops for GrandKidsU – an institution-wide program for grandparents and their grandchildren where students participate in two days of faculty facilitated learning workshops in a University setting. Geography was a popular "major" at GrandKidsU again. This year's Earth Explorers carried out weather observations with instrumentation, conducted a temperature experiment, went campus geocaching (shown below), designed a playground, examined rocks and minerals, made their own compass, and solved a geographic mystery in an escape room.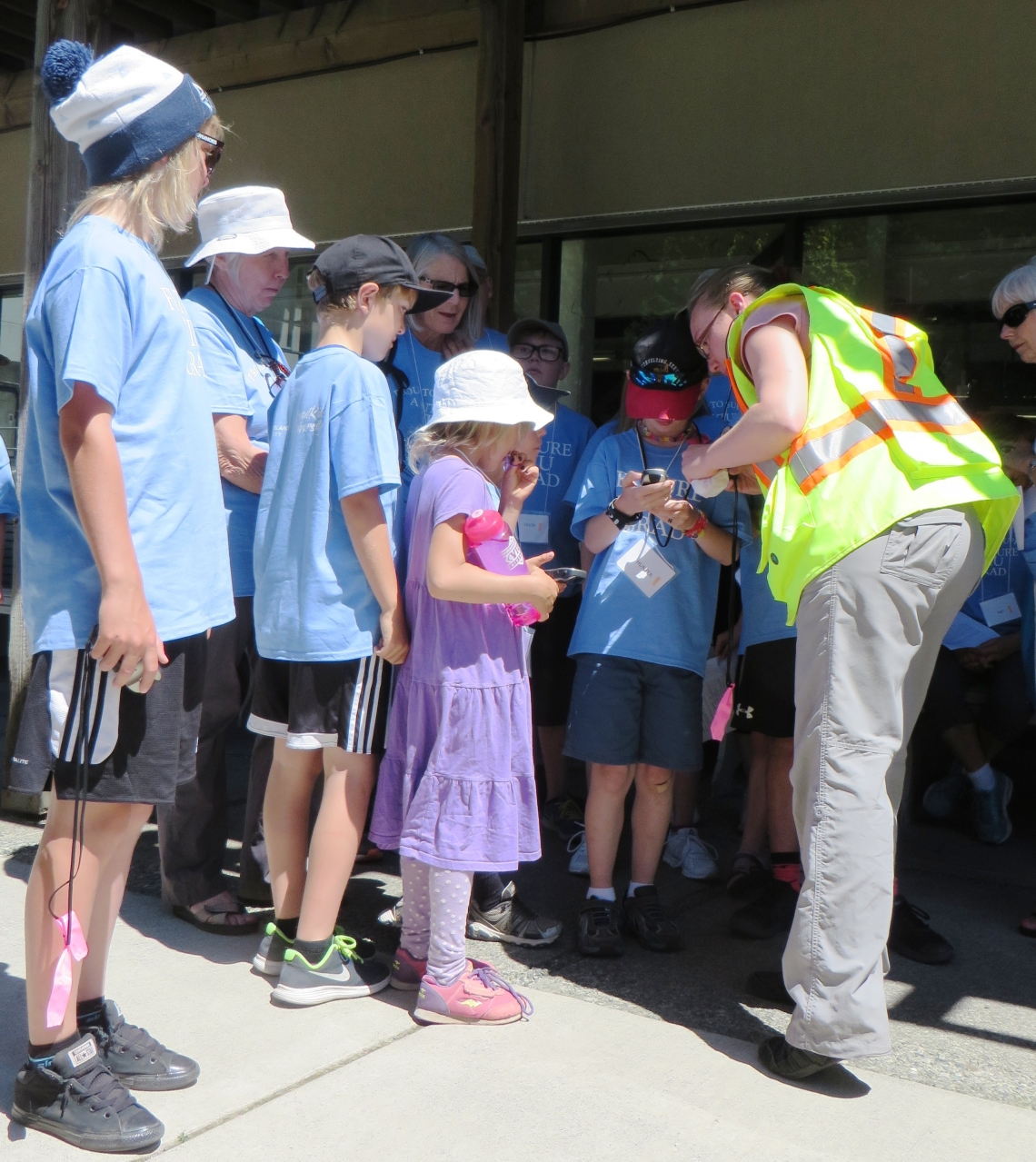 Learning to use a GPS on the hunt for geocaches.
Dr. Bill Floyd (BSc University of Northern British Columbia; MSc. Oregon State University; PhD University of BC). In 2014 Bill began a partial secondment from the Provincial Government where he is a Research Hydrologist, to establish the Coastal Hydrology and Climate Change Research Lab (CHCCRL) at VIU, and be the Lead for the Hydrology and Weather Node of the Watersheds Theme at the Hakai Institute. In his time at VIU Bill has integrated Provincial research projects into the CHCRRL, hiring students and technicians to work on projects funded by the Provincial and Federal Governments, and the Hakai Institute. Bill's research focuses on the hydrology of coastal BC and how land management and climate change have and will affect water resources, with an emphasis on snow and ice. For more information, please check out the CHCCRL lab website.
The crew from the CHCCRL installing the high elevation weather station at Ape Lake near Bella Coola, BC.
Dr. Alan Gilchrist (PhD University of Liverpool) continues to do research in the area of water resources management, with an emphasis on quantifying water resources and developing tools to help manage water more effectively. His most recent finished project considered the influence of climate change on Vancouver Island and how this will increase the irrigation needed for agricultural crops in the future. The results have been widely circulated with presentations at conferences and to water professionals. Alan has been approved for a one year assisted leave in the 2018/19 academic year to complete a water budget for Vancouver Island. This is an ambitious project building on his recent work that will provide a base line for considering how much water will be available in the future for human use on Vancouver Island given climate change and demographic trends.
Dr. Jeff Lewis (BSc, MSc and PhD University of Victoria) continues as a Faculty Advisor for ACER, "Awareness of Climate Change through Education and Research", funded by NSERC and SSHRC. ACER is a public outreach initiative led by an interdisciplinary group of students and faculty at Vancouver Island University, which is dedicated to increasing the public's understanding of the science and implications of climate change through presentations, hands-on demonstrations and interactive activities. ACER held a successful 2016 Climate Change Symposium on Policy and Sustainability and is currently working with a group of VIU Nursing students for the 2017 symposium, which will focus on Climate Change and Human Health. In 2016, Jeff gave a number of climate change presentations including at the Royal Architectural Institute of Canada Festival and the Yukon Chamber of Commerce. Also, this past Spring semester, Jeff and co-instructor Sylvie Lafreniere of the Sociology Department taught University Essentials (INTR 150), a new course open to all students that focuses on essential skills required for academic success and lifelong learning, specifically university-level reading, writing and numeracy skills.
Dr. Brad Maguire (PhD University of British Columbia) recently completed his PhD dissertation Modelling Place Attachment Using GIS. He is currently revising the first paper based on this dissertation. Brad is currently teaching classes in both the Advanced Diploma in GIS Applications and Master of Community Planning programs.
Michele Patterson is now in her second year as a permanent half-time member of the VIU Geography Department. She teaches a variety of human geography courses at all levels of the undergraduate program. She continues to work on her PhD research looking at social, cultural and economic characteristics of the farmed salmon industry. This past year she also added two new research roles, firstly, as co-investigator in a new UBC 2016-2019 Sustainable Aquaculture of Pacific Oyster project called "The Shellfish Gene."
Michele is also working with a PDF from UBC on the Genomics and Society component of this large project, using qualitative research to involve perspectives on oyster culture and the use of genomics among residents of coastal communities in the study area. Secondly, she is part of a four year (2015-2019) Genome BC/Genome Canada project entitled: Enhancing production in Coho: Culture, community, catch (EPIC4). She recently submitted to the team leader her soon to be published paper entitled: Values, wellbeing, genomics, and salmon – A literature review. She also recently spoke at two events: Teaching in the Post-Truth Era (VIU) in April 2017, and on a panel about seafood marketing at the BC Seafood Expo in Comox in June 2017.
Dr. Pamela Shaw (BA and MA University of Alberta, PhD University of Victoria) is delighted to report that the Master of Community Planning Program at VIU was fully accredited by the Canadian Institute of Planners/Professional Standards Board in early 2017, so the first cohort of students walked across the stage at convocation in June with degrees from an accredited university. Out of more than 100 applications, a new cohort of 20 students has been accepted for Fall 2017 and the program continues to develop. There were many other highlights this year: students participated in the Queen Elizabeth Scholarship Program in Belize, attended a wide variety of field trips and experiences, and worked on projects with Ucluelet, Cobble Hill, Lantzville, Gabriola Island, K'omoks First Nation, and Lyackson First Nation. Pam is also the Research Director of the Mount Arrowsmith Biosphere Region Research Institute (MABRRI), and recently presented at the UNESCO EuroMAB Conference in France. The Institute continues to publish the International Journal of Biosphere Reserve Research, which is a digital, open access publication (see biosphere journal.org). MABRRI has benefitted from its largest research season to date for summer 2017 with 25 students employed in a variety of research projects relating to human/nature interactions in fragile environments.
 Dr. Pam Shaw discusses small coastal city urban design – Parksville, BC
Dr. Michael Tripp (PhD University of Victoria )  His regional geography expertise on Russia was given the chance to shine this past year in our 400-level special topics course, which was "Russia and the Near Abroad." This fall Michael is back from retirement to teach a section of GEOG 100.
In October he gave a Philosopher Café ' presentation sponsored by the VIU Philosophy Department and Vancouver Island Regional Library on "When International Crisis Strikes:  Is It Always Good to Help Out?"  Also in October, he submitted a paper "Russian National Parks: Evolution, Devolution and Continuity" followed by a presentation for an International Conference, "1917 and Today: Putin, Russia and the Legacy of Revolution" held at the University of Victoria. 
Dr. Hannah Wilson (PhD University of Waterloo) is continuing on in her role as Chair until winter, at which time the torch will be passed to Dave Cake. When not busy with administration and teaching, Hannah continues her collaborative research with VIU Earth Science faculty member Jerome Lesemann on remote predictive mapping techniques for mineral exploration in Canada's North. She has also partnered GEOG 101 students with Nanaimo Area Land Trust and the Land Conservancy of BC to participate in a long-term covenant monitoring process in Mount Benson Regional Park – near the 1019m summit. This ecological monitoring teamwork in action was profiled by our local MP Sheila Malcolmson by inclusion in the constituency calendar (shown below).
ecological monitoring teamwork in action was profiled by our local MP Sheila Malcolmson

by inclusion in the constituency calendar
Jim Windsor, who taught full-time until recently at UNBC and is a long-time WDCAG stalwart, has taught three sections of GEOG 100: World Regional Geography for us this past year. This spring, Jim will be teaching our GEOG 433: Special Topics course, covering the geography of water resources.
Michael Govorov, Dave Cake, and Paul Zandbergen are entering the last year of a 5-year CIDA funded project which is continuing its work towards building capacity for GIS and spatial data infrastructure in the Ukraine with the goal of helping Ukraine's civil servants move forward with land reform. This, in turn, will contribute to the country's food security and economic growth. The project just published three GIS textbooks for use by Ukrainian students.
Publications (2015-2017)
Alexander, T., Paes Ferraeira, M.I., and Alexander, D. (2017). Sustainable development in Canadian context: A critical review. English edition of Boletim do Observatório Ambiental Alberto Ribeiro Lamego, 10(1), 7-22. DOI: 10.19180/2177-4560.v10n12016p7-22
Alexander, D. (2016). Urban environmental degradation: Causes and solutions. In Environmental degradation: Types, causes, and impacts, (p1-20); A. Marsh (Ed.), Hauppauge, NY: Nova Science.
Alexander, D. and Stephens, C. (2016 Summer). PIBC annual conference session highlights – Planning and ecology: A good marriage? Planning West 58(3)
Alexander, D. (2016). At Main and Hastings, a radical rebuff takes shape: How Bob Williams helped make a derelict cop shop a litmus test for clashing values in Vancouver. The Tyee 5/31.
Bowes, M., Keller, P., Rollins, R. & Gifford, R. (2017). The effect of ambivalence on on-leash dog walking compliance behavior in parks and protected areas. Journal of Park and Recreation Administration 35(3): 81-93.
Bowes, M., Keller, P., Gifford, R., & Rollins, R.  (2015).  Parks, dogs and beaches: Human-wildlife conflict and the politics of place. In Carr, N. (ed), Domesticated Animals & Leisure. Sydney: Palgrave.
Bowes, M.,  Keller, P., Gifford, R., & Rollins, R. (2015). Shorebirds, wolves, dogs & beaches: Human-wildlife conflict in Pacific Rim National Park Reserve – Research Brief. Canadian Association of Geographers.
Oliver, A. A., Tank, S. E., Giesbrecht, I., Korver, M. C., Floyd, W. C., Sanborn, P., Bulmer, C., and Lertzman, K. P (2017). A global hotspot for dissolved organic carbon in hypermaritime watersheds of coastal British Columbia, Biogeosciences, 14, 3743-3762, https://doi.org/10.5194/bg-14-3743-2017.
Trubilowicz, J.W., Floyd, W.C., D'Amore, D.V., Bidlack, A.L. (2016). Satellite monitored snow cover in Western North America: A comparison of water year 2015 to Media Conditions. Proceedings 84th Annual Western Snow Conference "Snow Drought and Hydrological Impacts. Seattle, Washington, April 18-21, 2016.
Reid, D. A., Hassan, M. A., and Floyd, W.C. (2016). Reach-scale contributions of road-surface sediment to the Honna River, Haida Gwaii, BC. Hydrol. Process., 30: 3450–3465. doi: 10.1002/hyp.10874.
Gilchrist, A., 2016. 5.3 Aquifer Vulnerability: DRASTIC; in Russell, H.A.J., and Benoit, N., (compilers); Nanoose Bay - Deep Bay Area, Nanaimo Lowland Groundwater Study Atlas, Regional District of Nanaimo, British Columbia; Geological Survey of Canada, Open File 7877, 58-59, doi: 10.4095/298892. 
Kingzett, B., Tillapaugh, Cake, D., & Patterson, M. (2016). Shellfish Aquaculture Assessment for cultural/economic zones of North Vancouver Island Marine Plan. Prepared for Marine Planning Partnership. 25 pp + app.
Murray, G., Wolff, K., & Patterson, M. (2017). Why eat fish? Factors influencing seafood consumer choices in British Columbia, Canada. Ocean & Coastal Management, 144, 16-22.
Patterson, M., Filgueira, R., Tillapaugh, D., Grant, J., Thupaki, P., Kingzett, B., Cake, D. (2016). Carrying capacity assessment for shellfish aquaculture in Haida Gwaii (Skidegate Inlet). Prepared for Tides Canada.
Patterson, M., Lieberknecht, L., Hooper, T. & Ardron, J. (2016). Recommendations on applying Canada-BC Marine Protected Area Principles in Canada's Northern Shelf Bioregion (Principles 6 ,7, and 8). Report submitted by PacMARA to the BC Marine Protected Area Team.
Witter, A., Patterson M., & Murray, G. (2017). Improving local benefits from fisheries in the MaPP region: Exploring alternative seafood marketing as a potential implementation tool. Prepared for Tides Canada.